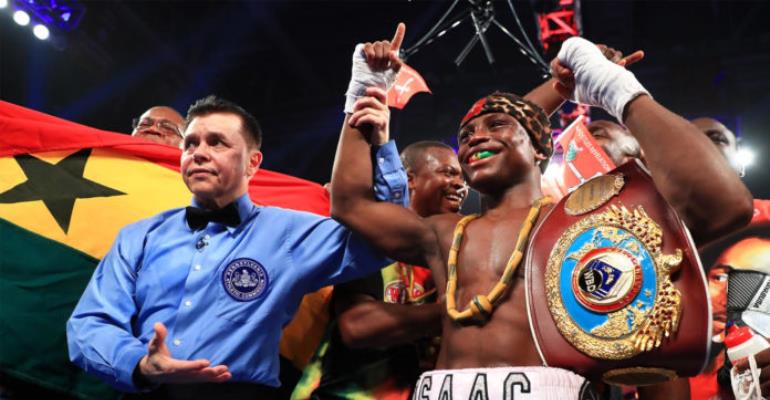 "My dad said 'don't phone your mum and tell her the problems we are going through'."
Boxer Isaac Dogboe is detailing a period of homelessness that pre-dated his rise to world champion. As he does so, his father Paul fights back tears just a few feet away.
The 24-year-old, who describes himself as "born in Ghana, made in Britain", can scarcely believe life has changed so much that he now gets to rub shoulders with Prince Charles.
From the platform of WBO world super-bantamweight champion, his dream of becoming Africa's first pay-per-view star now looks attainable. As he told BBC Sport in the build-up to Saturday's contest with Mexico's Emanuel Navarrete, it once looked anything but.
A gym-floor bed and sacrifice
Smacked to the canvas in round one of his shot at America's undefeated world champion Jessie Magdaleno in April, Dogboe's position as a massive underdog looked fitting.
"Going down for the first time goes to show that before you achieve something great you have to go through adversity," he reflects.
Dogboe, who moved from Ghana to the UK at the age of seven, has walked the sport's precarious line into the limelight.
Being an Olympian at London 2012 afforded no real security. A switch to the professional game left him chasing opportunities around the globe, so much so that he and his father – who has trained him from the age of 14 – were left on the brink in California in 2016 while his mother was back in the UK.
"People didn't know we had nowhere to sleep for about three months," recalls Dogboe. "We had managerial problems and people took everything at once – the car, the house we were in, it all had to be given away. But we continued training. My dad said 'don't phone your mum and tell her the problems we are going through'.
"After training we would dress up and hang out around the gym. We'd put our bags down when people had gone and sleep or wait for the next session.
"It's hard to believe it as there are always smiles on our faces but when you go deep down, a lot has been sacrificed. Today when I see my father he reminds me that this is it, anything in our path we are clearing it.
"My father has been a pillar behind me, my backbone, my everything."
Dad's early wake-up calls
Father Paul is emotional as his son talks and they work the pads together in a south London gym.
The 5ft 2in champion believes the grit and hardship of his lifestyle was critical in his 11th-round stoppage victory over Magdaleno.
What started as pad sessions with his dad in London parks eventually led to the London 2012 Olympics. With London's Fitzroy Lodge ABC offering him further training, he claimed a national amateur title a year later.
"I have to credit my father for the vision to start me in boxing," adds Dogboe. "I wanted to be a footballer. One time he came to watch me play and said 'Isaac, I don't think football is going to work, you're barging people and they keep running around the field like headless chickens. Let's try boxing and see how it goes'.
"I started training. He would work nights driving a lorry. Every time he'd come home at 4am or 5am, he'd wake me up, we'd go for a run and then I'd go to school. Then we'd be in the park training after school.
"On this journey my dad has had to support it, lending money from friends, whatever was necessary. After this fight everything will be settled."
'Which one is Isaac?' – a royal appointment
Given Dogboe comes from Ghana's capital – Accra – his father knew what a good fighter looked like. Two-weight world champion Azumah Nelson hailed from the city, as did former world welterweight champions Isufu 'Ike' Quartey and Joshua Clottey.
Of the 17 weight divisions – each boasting four belts – Dogboe is one of just four Africans holding a world title and the only man on the continent in possession of one outside of South Africa.
Little wonder then he was mobbed on returning to his birthplace with the WBO strap, and sought out for a recent royal appointment.
"The ambassador in Ghana phoned my dad and said we would like you to meet Prince Charles on his visit," adds Dogboe. "I flew to Ghana that same night, straight to the ambassador's house. I was standing there and Prince Charles came in. He asked 'which of them is Isaac Dogboe?'
"I was so excited and I put my hand up. To have that recognition for my achievements and be in the limelight is amazing.
"I always say I was born in Ghana but raised in Great Britain. Queen and country has done great for me."
A fight where the greats have stepped
Ghana-born, London raised, Dogboe is soon to be educated in the US, as he is weighing up university offers in Arizona and Pennsylvania, with a view to a January start.
From his new US base he hopes to build a profile big enough to become a household name in Africa.
It will not be easy as some believe his life in the UK leads to a lack of authenticity, leading to a disconnect with his people.
But if his relentless fighting style is not enough to draw in followers, fans typically gravitate to success. Given Dogboe claimed the British amateur title at lightweight – almost a stone heavier than his current super-bantamweight mark – it would appear progress through the featherweight and super-featherweight divisions can also offer paths to further glory.
Saturday's contest – a second defence of his title – will be key in maintaining momentum and satisfying the hype. The fact it is at a venue graced by Sugar Ray Robinson, Rocky Marciano and Muhammad Ali points to the remarkable strides made and the potential of what could come.
Dogboe concludes: "Isaac Dogboe is the warrior of Africa and [on the way to] becoming the first pay per view superstar to come out of Africa. From south London to the Big Apple, Madison Square Garden. On 8 December, I am going to set the place ablaze."