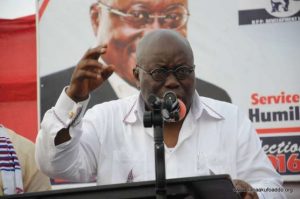 The New Patriotic Party (NPP) flagbearer for the 2016 elections, Nana Akufo-Addo, has urged party supporters not to be complacent by work hard to ensure victory on December 7.
Nana Akufo-Addo, who is seeking to unseat the National Democratic Congress' President John Mahama in his third attempt, told supporters to go out in their numbers to vote for the party in the upcoming polls.
Addressing a rally at Atebubu in Brong Ahafio Region as he wrapped up his tour of the region on Sunday [November 13], he said, even though there were clear indications the party will win the elections, its supporters must not be complacent; but must be focused and work hard to ensure he becomes victorious.
"On 7th of December, everybody has to go and vote. If you want change, you have to vote for the change. Everybody knows the wind of change is blowing everywhere we go. But I beg you, nobody should think that it is a done deal. We need everybody to vote," he said.
He told the party supporters that the governing NDC had led the country into economic difficulties that has made the cost of living in Ghana unbearable.
According to him, the NPP was the country's best bet to deliver her from all the poor conditions caused by the Mahama-led administration.
He said the only way Ghanaians can be guaranteed of better standards of living and development, is for them to vote for the NPP in the upcoming elections.
'Nana Akufo-Addo in the Eastern Region'
Meanwhile, Nana Akufo Addo is expected to commence a four-day tour of the Eastern Region on Tuesday [November 15], to canvass more votes for the party ahead of the elections.
It will be the second time the he is visiting the region as part of his campaign.