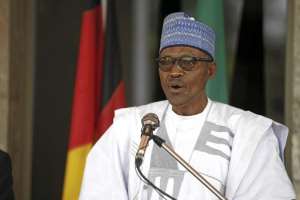 Nigerian President Muhammadu Buhari
A Nigerian election tribunal has dismissed a case filed by opposition candidate Atiku Abubakar challenging President Muhammadu Buhari's victory in last February's presidential election.
The electoral commission had declared President Buhari, a member of the governing All Progressives Congress (APC) party, the winner with about 56% of the votes.
The judgement took eight hours to read out to a packed courtroom in the capital, Abuja.
The judges said that Mr Abubakar, a former vice-president, and his People's Democratic Party (PDP) had failed to prove their allegation that the election had been rigged in favour of Mr Buhari.
They also said there was no proof that the president had lied about his academic qualification. The opposition had alleged the president did not have a secondary-school leaving certificate, which is a basic requirement for presidential candidates.
President Buhari, who is serving his second term in elected office, said he felt vindicated by the judgement.
"With this ruling, it is now time for the country to move forward as one cohesive body, putting behind us all bickering and potential distractions over an election in which Nigerians spoke clearly and resoundingly," he tweeted.
The 76-year-old president, who once led a military regime for 20 months in the 1980s, said he was "extending a hand of fellowship to everyone who felt aggrieved at the outcome of the election and went to court".
But the PDP rejected the court's ruling, describing it as a "provocative, barefaced subversion of justice and direct assault on the integrity of our nation's justice system".
The party planned to launch an appeal at the Supreme Court, it added .
–BBC