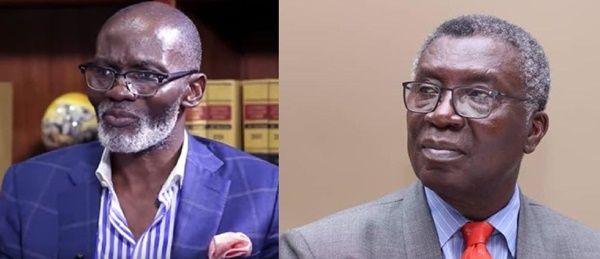 Professor Kwabena Frimpong-Boateng has fired back at Gabby Otchere Darko on the illegal mining report.

Mr Gabby Asare Otchere-Darko, a lawyer and a prominent member of Ghana's ruling New Patriotic Party, criticized former Minister for Environment, Science, Technology, and Innovation, Professor Kwabena Frimpong-Boateng, over allegations made against him in a report submitted to President Akufo-Addo.

Frimpong-Boateng in a 36-paged report wrote that "We were ready to dislodge Imperial Heritage from Kobro Forest when Mr. Gabby Asare Otchere-Darko called to inform me that he was the lawyer for Heritage Imperial Limited, a company that was destroying the Kobro and Apaprama Forest Reserves and in the process had also polluted and diverted the course of the River Offin, as can be seen in the satellite images below. I informed the President about the behaviour of Mr. Gabby Asare Otchere-Darko and he promised to deal with it."

Gabby's denial

In an interview with Citi FM, Mr Otchere-Darko, denied interfering with the work of the Inter-Ministerial Committee on Illegal Mining (IMCIM).

"It tells you how weak the [former] Minister's understanding of his position is. If what I did was illegitimate, why didn't he take the right action? He said he had reported me to the President, as if he is a teacher and the President is a headmaster, and I am a prefect," he said.

He further dared the former Minister to "come and say that when I called him, I was pushing an illegitimate point, let him come and say so. I based my intervention on the legality of what my clients were doing and what I saw to be an illegitimate action of the state against a company that the same state had issued permits and licenses to operate its business."

"If he has his own issues, let him deal with them, but he should not misinterpret a legitimate action of a lawyer on behalf of a client who had a legitimate case as a matter of interference," he added.

Prof. Frimpong-Boateng fires

The former Minister in response, however, finds Gabby's claim "laughable".

"After listening to the words of Mr. Gabby Otchere Darko I became sad for Ghana. I wondered what happened to us to get to this state, where a person who is supposed to be the lawyer of a mining company exhibited such industrial-scale ignorance about mining laws and regulations.

According to him, "Mr. Gabby Otchere Darko, it is laughable that you claim to have called me to seek information on your client. If you needed any information, you could have called the Minerals Commission. You know I did not operate mining information services. You called to tell me that your client had a valid mining licence and all necessary permits. I told you that Heritage Imperial Co. Ltd. did not possess documents permitting it to undertake active mining".

"That notwithstanding through your intervention the Chinese, who were arrested were released by the task force. The many soldiers who were providing security service to your client's company attacked the IMCIM task force team and damaged the vehicle carrying journalists who were covering the IMCIM operations" he added.