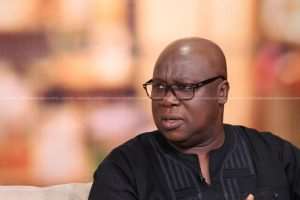 Greater Accra Regional Chairman of the opposition National Democratic Congress (NDC), Ade Coker, has criticized former Mayor of Kumasi, Kojo Bonsu, over his decision to contest in the party's presidential primaries.
Kojo Bonsu on Friday gave hints about h is intention to contest, and later followed up with a letter of intent to the party's General Secretary, Johnson Asiedu Nketiah.
Although Mr. Bonsu has the right to contest the election as democracy permits, Mr. Coker believes the former Kumasi Mayor does not qualify to lead the NDC.
"Let me advise Kojo Bonsu. He is my very good friend from the football circle. This country is a serious country, and we must be serious. Ghana is not cheap and the way we are doing things in this country, sometimes we belittle this country."

"The fact that you have been a KMA Mayor does not qualify you to be President of Ghana. Jesus Christ! Let's cry aloud, let's be serious. The world is watching us. He is my very good friend, and when I see him, I will advise him to go and sleep somewhere. Please! We sit here, every Tom, Dick, and Harry gets up, and he wants to be what? If your ribs are not strong, you do not take punches…"
Ade Coker is an avowed supporter of President Mahama's candidature. He was part of the 10 Regional NDC Chairmen who endorsed President Mahama even before he officially declared his intention to contest.
The former Kumasi Mayor joins other party stalwarts such as former President John Dramani Mahama, and former Vice-Chancellor of the University of Professional Studies (UPSA), Prof. Joshua Alabi.
His announcement brings to twelve (12) the number of people who have so far given indications to lead the NDC for election 2020.
Profile of Osei Bonsu 
Osei Bonsu is a royal of the Ashanti kingdom.
He was the first representative of sports kit maker Adidas in West Africa.
Mr. Bonsu is a former board chairman of the National Sports Authority who spearheaded the re-branding of the sports council until it subsequently became a sports authority.
He is a former managing director of Goil and has massive experience in sports administration.
NDC Flagbearer to be elected in December – Asiedu Nketia
The NDC has said the election for a flagbearer will come off in December 2018.
General Secretary, Johnson Asiedu Nketia, said the date is in line with what their constitution proposes