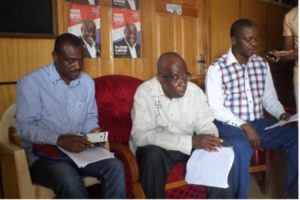 Paul Akoh addressing the press at NPP Regional Headquarters at Sunyani (middle)
The Brong Ahafo Regional branch of the New Patriotic Party (NPP) has called on relevant authorities who want to ensure peaceful and fair election this year at Asunafo and Asutifi South Constituencies of the region to advise the Brong Ahafo Regional Minister, Eric Opoku and the Local Government and Rural Development Minister, Collins Dauda to stop using their party thugs to intimidate NPP members in the areas.
According to regional leaders of the party, nobody should blame them if violence breaks out in the above-mentioned constituencies before, during and after the December elections.
It seems our call for intervention from bodies such as the Peace Council, Christian Council, Police and the Army have fallen on deaf ears.
At a press conference yesterday at the NPP's Office at Sunyani, Chairman of Regional Election Committee of the NPP, Paul Akoh recounted several instances where members of his party were beaten, maimed and tortured without any provocation at Asunafo, Asutifi and Tano South Constituencies in the Brong Ahafo region.
He mentioned that the NPP MP for Asutifi North Constituency, Joseph Daha and Obeng Appiah, Asutifi South Constituency Chairman were beaten at Ntotroso and Nkaseim respectively.
He mentioned that recently the finger of an NPP supporter was chopped off at Sankore by hooligans.
According to him, the party has made several complaints to the authorities but to no avail.
He said for instance, the regional chairman of the party, Lawyer Ansumah Kweku Cheremeh and the acting National Chairman of the NPP, Freddie Blay, have all complained about brutalities being meted out to their supporters by the hooligans.
The former Asutifi North MP condemned the continuous brutalization of the party people at Asutifi and Asunafo South Constituencies without police action.
He blamed the situation on some leading NDC members such as Mr Opoku, Mr Dauda, who he accused of using his brother called Naaba to terrorize NPP people at Asutifi.
He alleged that Mohammed Doku, DCE for Asutifi North and Eric Adai, DCE for Asutifi South and Hannah Bisiw, a Deputy Minister of Agric in-charge of Livestock were behind the incessant attacks.
Mr. Paul Akoh expressed disappointment in the security agencies, especially the police, for allowing the NDC gurus to manipulate them in the discharge of their professional duties.
He said so far nobody had been arrested and prosecuted, adding that all peace-loving people and organizations should not blame the NPP when violence erupts in the various constituencies.
FROM Daniel Y Dayee, Sunyani
danielyoadayee@yahoo.com