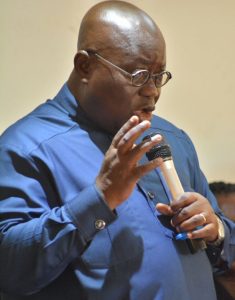 Presidential candidate of the opposition New Patriotic Party (NPP), Nana Akufo-Addo says he can bet his last dollar that the ruling National Democratic Congress (NDC) will make his one district; one factory their flagship programme should they win the December polls.
He said the ruling party knows how feasible the policy is but has launched a counter- campaign against it for cheap political points.
The NPP leader promised to build one factory in each of the 216 districts. This move is part of his commitment to make industrialization the cornerstone of his policy of economic transformation.
But the NDC led by President John Mahama rubbished the promise by the opposition leader describing it as an election promise.
However, Nana Akufo-Addo on Accra-based Peace FM said he is not surprised about the vehement campaign launched by the ruling party to discredit the policy.
He cited how the NDC during the 2012 electioneering campaign rubbished the NPP's free Senior High School (SHS) policy yet shoddily implemented it when they won the elections.
Like doubting Thomas in the Bible, Nana Akufo-Addo said members of the ruling party with their 'political lenses' will never see any initiative by the NPP as doable
"One district, one factory will be NDC's flagship policy if they win the election but they will campaign against it now so I'm not surprised" he stated.
This notwithstanding, the three-time presidential aspirant said the NPP is committed to make the policy a reality to end the unemployment situation in the country.
He explained that, there is a research to show the different natural resources of every district. The factories will be set up based on the resource allocation of each district.
Nana Akufo-Addo added that, an NPP government would draw out a clear strategy which will engage the private sector in rolling out more than 200 factories.
The only way to make this dream a reality, he said is for Ghanaians to vote massively for him in the elections slated for Wednesday December 7, 2016.