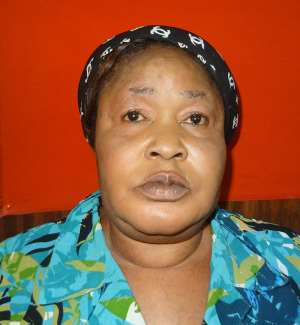 An Accra High Criminal Court 2 has convicted a Zambian businesswoman Matildah Nkole Kangombe for trafficking precursor chemical in her luggage at the Kotoka International Airport (KIA).
Ms. Nkole Kangombe, 47 was convicted by His Lordship Justice Cee Baiden upon her own plea and subsequently sentenced to a fine of Seven Thousand Five HundredDollars($ 7,500), (GH 90,000) cedi equivalent penalty unit in default of 15 years if not paid for trafficking of Ephedrine without express permission from the appropriate office.
Operatives of the Narcotics Control Board (NACOB) arrested Ms. Nkoleon Sunday 28 April 2018 at the KIA where she was going through departure formalities to board Ethiopian Airline flight NO. ET 819 to Ethiopia enroute Maputo-Mozambique.
Ms. Kangombe was apprehended during a normal routine profiling exercise on passengers by NACOB at the departure lounge.
A preliminary search carried out on her hand luggage revealed nothing incriminating and she was later escorted to the luggage section where she identified a brown 'Samsonite' bag as hers.
Follow up checks in her presence uncovered a whitish substance wrapped with four mini blankets and two towels. A field test on the exhibit proved positive for narcotic substance.
Further analytical test at the Ghana Standards Authority (GSA) proved the substance as Ephedrine, a pharmaceutical raw material that is used in the manufacturing of methamphetamine, an illicit drug with a weight value of 25kg.
She was subsequently sent to the Headquarters of NACOB for interrogation where she confirmed ownership of the bag to officers of NACOB, adding that the said bag was given to her by one Ahmed at an unknown hotel to be delivered to a Christian sister of hers in Maputo, Mozambique.
NACOB admonishes the public to desist from delivering parcels for and on behalf of others, as it has been the conduit for trafficking narcotic drugs.
The public is urged to voluntarily provide information leading to the successful arrest of persons suspected to be indulging in nefarious activities in narcotics related acts.