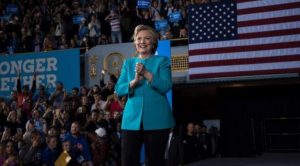 The race is extremely close but Hillary Clinton appeared to have a slight edge over Donald Trump in a series of final polls released just one day before Election Day.
A CBS News poll had Clinton ahead of Trump by 4 points nationally, 45%-41%. Libertarian candidate Gary Johnson had 5% and Green Party candidate Jill Stein had 2%. In a two-way race Clinton led by the same margin, 47%-43%.
The ABC News/Washington Post daily tracking poll had Clinton at 47%, Trump at 43% on the final day. Johnson had 4% and Stein had 2%. Clinton led by the same margin in a two-way race, 49%-45%.
A Bloomberg News poll found that Clinton led Trump by 3 points in both four and two-way races. When the two faced off one-on-one Clinton led 46%-43%. And when third-party candidates were tallied Clinton had a 44% share of support, Trump had 41%, Johnson had 4% and Stein had 2%.
But Trump did have the lead in two national polls, the Los Angeles Times/USC and the IBD/TIPP polls, both polls have favored Trump throughout the race — even when the majority of other polls showed Clinton ahead.
Trump led by 5 points in the Los Angeles Times/USC daily tracking poll 48%-43%.
And the IBD/TIPP tracking poll also had Trump ahead by 2 points, 43%-41%. Johnson had 6% and Stein had 2%.
Quinnipiac University released polls in Florida and North Carolina — two states where Clinton and Trump have been locked in tight races that could help decide the winner — show Clinton ahead by 1 point in Florida and 2 points in North Carolina.
Both polls fall well within the 3.3 point margin of error and put the two candidates at a virtual tie.
On Sunday the FBI announced that the additional inquiry into Clinton's emails was over and the agency stood by their previous recommendation not to press charges. It is not clear what impact the announcement will have on the race. Many polls were conducted before the announcement Sunday.
-USA Today