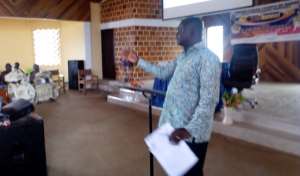 Residents of Wamanafo in the Dormaa East District of the Brong Ahafo Region have lauded government achievements especially in the social sector.
At a town hall meeting organized at Sabikrom Presby Church by the Ghana Center for Democratic Development (CDD-GHANA) in partnership with Hope Alive 360 Foundation with support from the Open Society Initiative for West Africa(OSIWA) participants praised government for its initiatives in the areas of Agriculture especially the subsidized improved seedlings and fertilizer under the Planting for Food and Jobs programme, free hybrid cashew seedlings, employment of youth under the forestry commission among others.
But during an open forum, the Twafohene of the area said more needs to be down to improve upon the road networks linking the farming communities in the area since the roads are inaccessible.
Other participants at the event wanted the Dormaa East District Assembly to provide toilet facilities, lorry parks, and completion of school buildings among others. However, responding to questions and concerns raised by participants, the District Chief Executive for Dormaa East, Hon. Emmanuel Agyemang assured residents of the Assembly's commitment to complete all on-going projects adding that the Assembly will not award many projects next. This according to him will help the Assembly leverage resources to complete projects already under his tenure and during the previous administration.
Commenting on why some projects have stalled over the years, Hon. Emmanuel Agyemang explained that such projects were awarded by the previous administration under the Ghana Education Trust Fund (GETFund) but enough budgetary allocations were not made for them. Hon. Agyemang said in order to ensure participation of citizens in the running of the affairs of the Assembly, he appears on Dormaa Fm every Friday while an open day which seeks to create a forum for Assembly and citizens interaction has been initiated.
The town hall meeting afforded the Assembly the opportunity to share with participants its progress report for the first half of the year and its financial position as well asprogress on government's Social Intervention Programs.
A representative of the Local partner organization, Mr. Baffour-Mensah A. appealed to the Chiefs and people of the District to support the District Chief Executive adding that efforts to bring the people on board in the governance process were commendable. "Every good governance revolves around participation of citizens" he said. He appealed to the citizens to pay their taxes for the development of the District.
The town hall meeting was the second in the series of the Promoting Social Accountability Trough Citizens participation in Local Governance in Ghana project under the theme "Improving Service Delivery, Transparency and Accountability Through Feedback and Dialogue on Local Government Budgets, Plans and Programs". Alongside the town hall meetings, are radio programs in all twenty project Districts entitled "Time with the Assembly" which seeks to sensitize citizens on local governance and induce accountability from duty bearers.