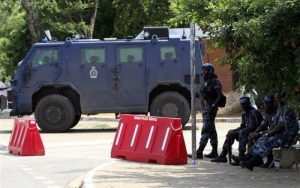 Tension is mounting in Asamankese in the Eastern region following the destoolment of the town's chief by the judicial committee of the Akyem Abuakwa traditional council.
According to the council, the current chief, Osabarima Adu Darko, was illegally enthroned and must step down for tradition to be followed.
The Council has there ordered the queen mother obapanyin Akosua Birikoramang and the relevant traditional authorities in the Asamankese traditional area to immediately nominate a new royal to be installed chief.
The ruling which was given in the Kyebi palace Monday sparked chaos in the town with the youth loyal to the embattled chief burning tyres and rampaging.
According to Starr News' Eastern regional correspondent Kojo Ansah, security has been beefed up in the town to forestall an outbreak of violence.
Osabarima Adu Darko was installed chief on October 14, 2014 to succeed his brother, the late Osabarima Kwaku Amoah the Third, who died on November 3, 2015.