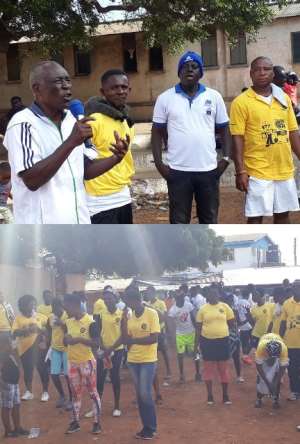 Four groups in Tema Newtown have come together to begin a sanitation revolution in the town to end decades of squalor and apathy with attendant health challenges.
The campaign takes the form of continues clean up exercises to sensitize the citizenry on the need to keep their communities clean and also to transform Tema Manhean into a healthy community.
Speaking to the Ghana News Agency (GNA) on Saturday at the Kpledjo Community Center, Tema Manhean, the Chairman of the Jaase (King makers) in Newtown bemoaned the poor state of sanitation in the community which, he said, had made it one of the worst in West Africa.
Mr. Joseph Ashitey Larter, who is also the Tema Newtown Sub-metro Chairman, Tema Metropolitan Assembly (TMA) said, 'We've realized that the way we are handling sanitation in Tema isn't the best, so we came together and decided to help solve this huge sanitation problem.'
He said that the revolution was beginning with a health walk that was aimed at creating awareness of the upcoming campaign scheduled to commence in two weeks' time.
He said they had zoned the campaign according to the electoral areas which meant that the exercise would take place in each of the electoral areas every two weeks until the situation improves, adding that 'we're going to do this for as long as it takes till we see that things are okay.'
He urged the public to take up their responsibility to clean their environment since they generated the rubbish.
Responding to whether the people of Newtown would buy the revolution they were initiating, he retorted, 'There must be a change. We can't live in a situation in which you tell me you can't change. Things are changing in the world so if we sensitize people and punish them, it will stop.'
He added that 'we keep saying in Ghana that we have bye-laws but we don't use them so the citizenry aren't taking things seriously, but this time we're going to bite.'
The Secretary of the Patriotic Citizens of Tema, Mr. Aziz Adotey Maclean, hailed the sanitation revolution, calling it one of the first in Ghana.
He used the occasion to appeal to corporate institutions and individuals to come to the aid of the revolution to achieve its target.
Madam Cecilia Mensah, a resident of Tema Newtown, pleaded with the TMA to ensure that rubbish was collected regularly as that has also contributed to people dumping refuse anyhow because refuse could sit for two weeks without being collected.
The groups initiating the sanitation revolution are the Tema Traditional Council, the Jaase Council, the Patriotic Citizens of Tema, and the TMA.