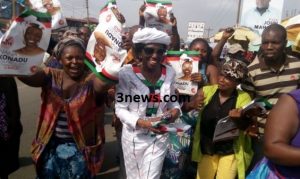 The founder and flagbearer of the National Democratic Party (NDP) Nana Konadu Agyeman Rawlings, has said her main agenda is to promote grass-roots democracy.
She explained that it would enable more women to participate in governance which would impact positively on them and their children across the entire nation.
Nana Konadu Agyeman Rawlings stated this in an interview with Pink FM at Kasoa on Sunday.
She noted that men have for a long time led this nation, stressing it was time for a woman to also become President.
She said as women form over 50 per cent of the population, their representation in government was paramount.
The NDP flag bearer, who is also a former First Lady, said she earlier took her campaign to Oboom Domeabra and Bortianor-Ngleshie Amanfro constituencies before arriving at the studio of the local FM station for the live interview.
When asked her opinion about the performance of former President Jerry John Rawlings during his tenure as Head of State, Nana Konadu averred that her husband did his best at the time Ghana was in distress.
She said the NDP was likely to launch its manifesto this week to outline the policies and programme to build a better nation.
She said one of the strategies that she would use to transform the economy was to establish a state-owned gold refinery.
Nana Konadu said it would add value to the resource to earn the nation more revenue for development and cater for the welfare of the masses.
The NDP leader further stated that when given the nod, she would build more schools for more children to get access to education, adding that she would also put in place a quality healthcare system.
On the issue of his second position on the ballot paper, she explained that it simply meant victory; two sure, and two direct.
When it came to the issue of the riots that allegedly occurred at the residence of Nana Akufo-Addo, she condemned the incident and the perpetrators and emphasised that this showed that discipline had broken down in society with no respect for elders.
As to the number of parliamentary candidates her party had registered to contest the December polls, Nana Konadu said they were 35 because the amount that the Electoral Commission charged for the registration was on the higher side so it was just a few candidates who were able to pay for themselves while the party paid for the few others who were contesting.
She said it was not fair for money to be used to prevent participatory democracy.
When the host asked the interviewee her final words, she said her source of hope and inspiration was the massive support that she was getting all over the country, which would lead to her victory come December 7.
She said despite the delays following court actions against the EC which led to limited time for campaign,she was leaving no stone unturned to win the polls.