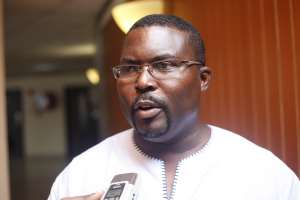 Deputy Ranking Member on Parliament's Employment Committee, Richard Quashiga, has downplayed the significance of government's Nation Builder's Corps (NaBCO), describing it as mediocre.
Speaking on Eyewitness News, Mr. Quashigah said government had only rolled out a repeated initiative.
"I think clearly this programme is nothing to celebrate… Those celebrating it are celebrating nothing but mediocrity. First of all, it is nothing innovative. It was something that was carved out of the existing YEA programme…I do not think it will wash.There is nothing glamorous about this, yet the President made a lot of fanfare about it"
Government introduced the NABCO initiative as part of its commitment towards addressing the high youth unemployment in the country.
100,000 recruits of NABCO successfully passed out on Wednesday, October 17, 2018 in Accra.
Mr. Quashigah also wondered why graduates on the NaBCo programme were being taken through another form of training aside the one they had already undertaken.
"We are talking about 90,000 young people but they are saying it is 100,000. Granted that it is 100, 000 young people, is this something that will give these people equal pay? Especially for the kind of work that they will be doing. Especially when you look at those in the health sector as Nurses."
"We know there is a gap of about 50,000 required in the health service, meanwhile there are 32,000 already out there and theirs is for government to sign a contract with them so that they can be engaged, and now you want those who are already professionals who have gone through the rudiments of effective training to undergo training again. What kind of training do they need again? These people will be going through the programme already de-motivated" he said.
NABCO programme will waste Ghana's resources – Kofi Adams
Mr. Quashigah's claims are in sync with the National Organiser of the opposition National Democratic Congress, Kofi Adams, who has described the programme as a repeated initiative.
According to him, the initiative will deplete the country's resources.
Speaking on Citi TV's Breakfast Daily, Mr. Adams maintained that NABCO should have been run under already existent systems like the Youth Employment Agency (YEA).
"Why the rush in changing and renaming things? This is creating its own bureaucracy and wasting so much. That is my worry. Aside from the worry of these professionals who feel that there is space and opportunity, this is bureaucracy that is taking so much from our coffers."
NaBCo programme is unsustainable – Ade Coker
The Greater Accra Regional Chairman of the opposition National Democratic Congress (NDC), Ade Coker, has also said the programme is unsustainable.
NABCO will succeed – Nana Addo tells critics
President Akufo-Addo on Wednesday hit back at critics who downplayed the impact of the Nation Builders Corps (NABCO) initiative.
Nana Akufo-Addo says the initiative will go a long way to partly address the current unemployment situation in the country.
He is optimistic the country will benefit from the talents of the NABCo graduates.
"As has become the norm with every bold initiative proposed by this administration, this programme, predictably, was not only ridiculed in certain quarters but also met with pessimistic and cynical comments with some going to the extent of urging graduates from our nations tertiary institutions not to register for the programme. In NABCO, we have planted the seeds of growth and future of our country. I am in no doubt whatsoever that NABCO will succeed," he added.