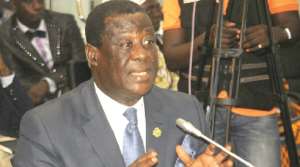 Minister for Roads and Highways, Kwesi Amoako-Atta, has ordered the immediate removal of trailer trucks parked on the shoulders of the Tema-bound stretch of the Accra-Tema Motorway. According to the Minister, the trucks, often loaded with bags of cocoa beans, impede traffic flow and endanger the lives of motorists.
After an inspection of ongoing works on the stretch with some officials from the Highway Authority, the Minister directed the Authority to erect signposts to caution truck drivers against parking close to the toll booth.
"There are trailers in front of the toll booth, causing confusion here. It will not be tolerated, that is why I have directed the Chief Executive of the Highways Authority to put sign posts here from Wednesday. No articulated truck should park here. Look at the number of vehicles that go through the toll booth and if more than 10 trucks arrive here, they take about 2 or 3 lanes," he said.
The Accra-Tema motorway is a major road connecting to the Eastern part of the country.
The 19-kilometre concrete stretch has been in a deplorable state for a very long time as it has not seen any major renovation since it was constructed.
It has developed gaping potholes with steel reinforcements badly exposed, posing serious threats to motorists.
Meanwhile, the Greater Accra Regional Director of the Highway Authority, Ing. Lawrence Lloyd Lankwei Lamptey who was part of the delegation failed to provide specific answers about the when dysfunctional streetlights alng the motorway will be fixed.
"We are working on it. That is what I can say now. It is being worked on, we are procuring for the contractor to come and replace what has been brought down. Hopefully, the street lights will be fixed before the end of the year."
He, however, indicated that patching of the potholes on the motorway is about 80 percent completed.
Source: Citinewsroom.com | Ghana