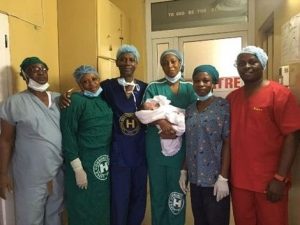 After twelve years of dedicated medical services to the public, the Lapaz community Hospital has attracted international attention and recognition, winning and joining the elite club of global health care providers committed to the welfare of mankind.
At an impressive ceremony in London, organizers of the prestigious international quality crown award London 2016, the BID Group, said the choice of the Lapaz Community Hospital for the category of "customer satisfaction, leadership, innovation and efficiency" was driven by the facility's uncompromising adherence to customer satisfaction and consistent quality services, which are two key indicators underpinning the Group's principles of total quality management model.
The citation accompanying the award which was presented by the President of BID, Jose E. Prieto, singled out Lapaz Community Hospital's outstanding commitment to quality and excellence, stating in part that "our company accepts quality as a factor of development.
Lapaz Community Hospital, the citation continued, is publicizing this quality culture with employees, suppliers, and clients to bring about customer satisfaction, team work and effective human resource management," it concluded.
Source: Peacefmonline.com