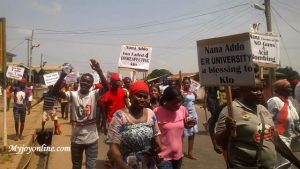 Konor of Odumasi Krobo, Nene Sarkitey on Tuesday snubbed some National Democratic Congress (NDC) sympathizers who invaded his palace to present a petition against Member of Parliament (MP) for Akyem Abuakwa South, Samuel Atta Akyea and the New Patriotic Party Presidential (NPP) candidate, Nana Addo Dankwa Akufo-Addo.
The demonstrators numbering about 30 invaded the Konor's palace during a court sitting to petition him, but the Konor refused to accept the petition.
The reason, the Public Relations Officer (PRO) of the chief said, is because the chiefs do not support the protest and refuse to be part of or tacitly condone it.
The NDC sympathizers were protesting the NPP MP's alleged comment that the Eastern University being proposed by the NDC government should have been sited at Akyem instead of Somanya.
The PRO, Nene Asada Ahor I condemned the action of the protesters describing it as undemocratic and unfortunate.
According to him, the chiefs had no knowledge about the decision of the youth group to embark on the demonstration against the NPP's Presidential candidate.
He said the chiefs of Odumasi do not support the youth in any way.
"We the chiefs are not happy about what happened, we knew nothing about the demonstration, we are not happy about it at all. Nana Addo is welcome to the Krobo land, the Paramount chief is ready to receive him.
"There is no way we will ask any youth to do such undemocratic thing against the Presidential candidate," Nene Asada stressed in an interview with Maxwell Kudekor.
Nene Aseda Ahor I warned the NDC to stop fueling tension and confusion in the area