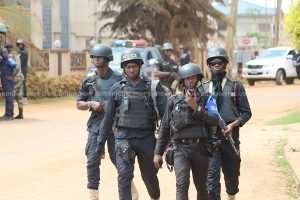 A robber was killed on Friday dawn after a fierce exchange of fire between police and a group of robbers at Apenkwa, a suburb of Koforidua in the New Juaben Municipality of the Eastern Region. The robber, who is yet to be identified, together with three other armed men, descended on residents of Apenkwa around 12 am on Friday.
But the swift response of the police patrol team on duty thwarted their activities.
The robbers are believed to be Togolese.
Confirming the incident to Citi News, the Eastern Regional Police Operations Commander, DSP Kartey Otumi said his team managed to arrest one of the suspects after the robbers engaged them in a gun battle.
"We were on patrols when we received a distress call that armed robbers were operating at Apenkwa so my men and I quickly drove to the place but on arrival we were finding it difficult to locate the exact house where they were until we heard some movement in a bush close to where we were approaching steadily."
"My men then shouted to enquire who was in the bush at that time and as soon as they heard our voice they started firing at us. So we immediately replied back and unfortunately one of them was hit in the process. Fortunately, we arrested one of them who said they were Togolese. Two are however on the run and we will make sure they are apprehended and brought to book," he narrated.
Source: Citinewsroom.com | Ghana