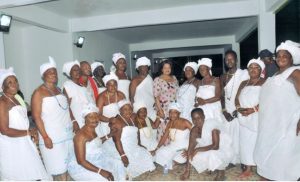 Ghanaian's Ambassador to Italy, Molly Anim-Addo, has called for more participation of women in politics to enable them to forcefully project their concerns.
She said the country's governance structure should make it easier for women to enter politics without being hindered by social stigma that politics was a dirty game.
In an exclusive interview with The Ghanaian Times, after the inauguration of the Kwame Nkrumah Interchange, she said Ghana needed more women politicians than it currently had.
Ambassador Anim-Addo, a former chairperson of the erstwhile National Council on Women and Development (NCWD), said "countries which are top on the Human Development Index are those which have given premium to issues concerning women".
With women making up more than 50 per cent of the population, the low rate of women in politics today was unacceptable, the Ambassador stated, adding it was, imperative that women needed to be empowered so as to help accelerate development.
She, therefore, called on women to recommit themselves to the Beijing Affirmative Action Plan and compete for more public service positions
She also urged women to vote in the December 7 election based on issues and not sentiments.
Ambassador Anim-Addo has concurrent accreditation to the Republics of Croatia, Serbia, Montenegro and Greece.
She is Ghana's Permanent Representative to the United Nation's Food and Agriculture Organisation (FAO), the World Food Programme (WFP), and the International Fund for Agricultural Development (IFAD).