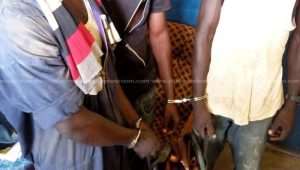 Seven persons (7) have been arrested by the Dodowa Divisional Police Command following a clash between land-guard and land-owner factions in the Shai Osudoku district.
"As a result of that attack, some sustained injuries on their head and were bleeding profusely," the Dodowa Divisional police Crime officer, Superintendent Reuben Dugah, told Citi News.
This was in line with the account of Medical Superintendent of the Shai Osudoku Hospital, Dr. Ken Brightson, who first confirmed the eruption of violence on te premises of the facility to Citi News.
The fight is reported to have been caused by a misunderstanding over some parcels of land located at Wodokum in Dodowa.
Wounded persons from the clash were first transported to the Shai Osudoku Hospital for treatment.
While medical professionals were providing medical care to the wounded, the two groups made their way to the hospital to continue their fight.
Although there was some gunfire at the hospital, there has been no report of gunshot wounds.
This prompted the police already at the hospital to call in reinforcements.
Police have said since said they are investigating the situation.
"They [the wounded persons] were referred to the 37 Hospital and they were further referred to Korle Bu Teaching Hospital for treatment. We have about seven of them in custody who we are investigating presently," Supt. Reuben Dugah said.
Dr. Ken Brightson, recounted that chaos ensued at the hospital when he insisted on providing medical care for the wounded though they were suspects in a crime.
The police had instead wanted to haul them to the police station for their statements.
"I stopped a car moving some of the victims away to save the lives of the victims because I have a responsibility of keeping them alive before police report. A policewoman was accompanying them to the police station so they go and write their statement. So she had to call for reinforcements. As soon as the team arrived on our premises, it became chaotic. They started fighting. Some of the wounded victims also engaged in the fight."
Source: Citinewsroom.com | Ghana