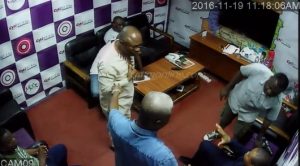 The unexpected happened today [Saturday] at the studios of private radio station Citi FM when businessman, Alfred Agbesi Woyome, the man at the centre of the controversial GHC 51 million judgement debt stormed the station in the morning.
A visibly upset Alfred Woyome entered the studio just when panellists on Citi FM's News Analysis Programme 'The Big Issue', the Executive Director of IMANI Ghana; Franklin Cudjoe, a member of the NPP and Legal Practitioner; John Kumah, and member of the Progressive People's Party (PPP), Richard Amoah were sharing their varied opinions on the judgement debt and his alleged role in the saga.
According to him, he was compelled to drive to the station because he was unhappy with comments by the panelists on the matter.
He was accompanied by two of his aides, one of whom got into a heated altercation with the Producer of the Show and the Operations Manager of the station.
The aide attempted to smash the Operations Manager's camera claiming he was taking photos of his misbehaviour.
This was about an hour after he had been interviewed live on the same show by host, Umaru Sanda Amadu on a press conference he organised yesterday [Friday].
It took the intervention of the police to calm tempers after they were called in.
Background
Alfred Agbesi Woyome had this past week accused the Supreme Court of persecuting him following its approval for him to be orally examined by former Attorney General, and anti-corruption campaigner, Martin Amidu.
Mr. Woyome was paid GHc 51 million after he claimed that he helped Ghana to raise funds to construct stadia for purposes of hosting the 2008 African Nations Cup.
However an Auditor General's report released in 2010 said the amount was paid illegally him and subsequently, the Supreme Court in 2014 ordered Mr. Woyome to pay back the money after Mr. Amidu challenged the legality of the payments in court.
Some efforts by the Attorney General to retrieve the GHc51 million, including selling his property to defray the debt, proved futile.
In 2016, the AG's department, led by the Minister for Justice, Marietta Brew Appiah-Oppong, decided to discontinue an application to examine the one-time NDC financier orally because it was considering a possible settlement with the defendant.
But this compelled Mr. Amidu to return to court to seek his eventually successful order to examine Mr. Woyome.
–
By: citifmonline.com/Ghana