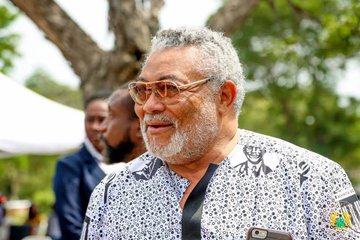 Achimota School has celebrated the late Jerry John Rawlings, former president of the Republic of Ghana.
Jerry John Rawlings would be 76 years old if he was alive.
He was born on 22 June 1947.
Rawlings finished his secondary education at Achimota College in 1967.
His alma mater today remembered him with birthday wishes.
"Happy 76th Birthday to Akora Jerry Rawlings John, Guggisberg House of the Grey City of The Outlaw's Hills". Achimota schhool tweeted.
Rawlings died on 12 November 2020 at Korle-Bu Teaching Hospital in Accra, a week after having been admitted for a "short term illness" in Ghana. According to some reports, his death was caused by complications from COVID-19. His death came nearly two months after that of his mother, Victoria Agbotui, on 24 September 2020.President Nana Akufo-Addo declared a seven-day period of mourning in his honor and flags flown at half-mast.
Achimota School, formerly Prince of Wales College and School at Achimota, later Achimota College, now nicknamed Motown, is a co-educational boarding school located at Achimota in Accra, Greater Accra, Ghana.
The school was founded in 1924 by Sir Frederick Gordon Guggisberg, Dr. James Emman Kwegyir Aggrey and the Rev. Alec Garden Fraser. It was formally opened in 1927 by Sir Frederick Guggisberg, then Governor of the British Gold Coast colony. Achimota, modelled on the British public school system, was the first mixed-gender school to be established on the Gold Coast.
The school has educated many Ghanaian leaders, including Kwame Nkrumah, Edward Akufo-Addo, Jerry John Rawlings, and John Evans Atta Mills all of whom are former Heads of State of Ghana. Kofi Abrefa Busia, a former Ghanaian head of government and prime minister, taught and studied at Achimota.
Also included in its list of African heads of state are Zimbabwe's second president Robert Mugabe and Sir Dawda Jawara, first head of state of The Gambia. An alumnus/alumna of Achimota is known as an "Akora".
Source: Elvisanokyenews.com