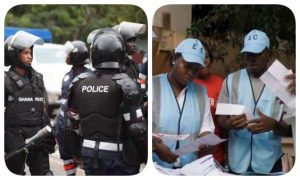 A total of 148,000 election officials have been deployed to the over 28,000 polling stations across the country for Wednesday's general elections to elect a president and 275 parliamentarians.
A statement issued by the Electoral Commission said 64,000 security personnel have also been deployed to provide security and maintain law and order at the various polling stations.
Over 15 million eligible Ghanaian voters are expected to cast their vote in this year's elections, which is has become a contest between the National Democratic Congress' John Mahama who is seeking a second term and Nana Akufo-Addo of the New Patriotic Party who is also making his third attempt at the presidency.
In all, seven presidential candidates are contesting the presidential election with 1,158 people, of which 135 are females, contesting for 275 parliamentary seats.
The elections started Thursday with a special voting exercise for the media, security personnel and other electoral officials who will be engaged for electoral duties on December 7.
According to the Commission, it has dispatched 70,709 Biometric Verification Devices and each polling station is expected to receive two of the devices to authenticate registered voters before they are cleared to vote.
The Commission said it has accredited over 12,000 local observers and more than 400 foreign observers for the election, which the Commission say will be a world class standard.