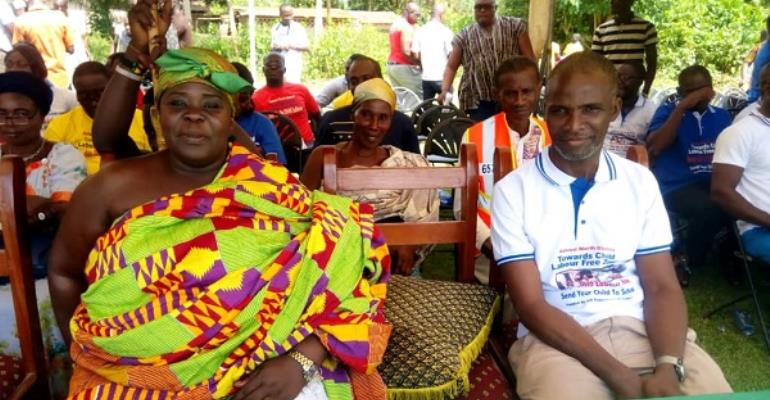 DUTY bearers, traditional leaders and other relevant stakeholders have been told they have legal and moral responsibilities to do more to stop children engaged in hazardous work in mining communities across the country.
The National Project Officer of International Labour Office (ILO), Emmanuel Kwame Mensah, said a 2014 report commissioned by the ILO found that more than 1.8 million children in Ghana were engaged in activities not appropriate for their ages.
According to him, many children were at risk of being injured by hazards around the work they do, and it is in the interest of the nation to deal with issues of child labour.
Speaking at the launching of Adansi North District project to make the area child labour free zone, Mr. Mensah called for culprits behind child labour to be exposed and dealt with in order to discourage the practice.
He commended government's efforts and initiatives to tackle child labour in mining communities, as he enumerated the psychological and health effects of child labour.
He noted that the ILO was not against engagement of children in light work and menial jobs that are appropriate for the ages and would not endanger their education and health.
District Chief Executive (DCE) for Adansi North, Eric Kwaku Kusi, appealed to his colleagues to make the issues of child labour a priority of the assemblies since section 16 of the Children's Act entrusts the care and protection of all children in the hands of metropolitan, municipal and district assemblies (MMDAs).
He was delighted his district had taken up the challenge to fight the menace, which he described as cruel, exploitative and one of the most heinous crimes that can be perpetrated by any person or group of persons against children.
Mr. Kusi stated that child labour steals the childhood, human rights and dignity of children and that it is everyone's responsibility to be part of actions to protect children and nurture them to take up leadership roles in the near future.
He was particularly worried about the emotional development of children – on the streets of major cities across the country – who do not understand the risk involved in being on the street.
The DCE said government has, over the years, adopted comprehensive policies to reduce poverty, increase access and improve the quality of education to ensure progress in dealing with child labour.
He entreated parents to take advantage of the School Feeding Programme and the Free Senior High School policy to get their children educated.