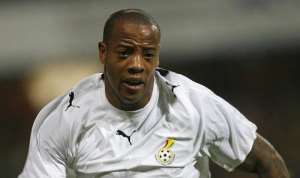 Derek Boateng, a former playing mate of Junior Agogo has expressed his regret about not checking up on him prior to his death.
The Ghanaian striker was confirmed dead on Thursday morning after recovering from stroke in 2015.
Agogo, who played mostly in England was aged 40.
A clearly shaken Boateng said that the camaraderie shown by the players in camp when they are called up to the Black Stars squad, more often than not, does not continue when they disperse.
"When we are in camp, [you can see] the love we show. Normally when we move from camp, it's not the same, which is very wrong."
He added that this was unfortunate as he believes teammates should consistently check up on each other even when they are not in camp together.
Boateng stated that he had not been in touch with Agogo and was not sure if any of the other players had spoken to him either.
"It's not good that after camp, we don't have contact with each other, we don't check up on each other. I feel so sorry about what happened to Agogo and that I didn't keep in touch with him."
"Now he's gone and I'm saying all these things about him when I should have gone to him. I don't know if any of the other guys did. Life is too short and we have to come back together and support each other."