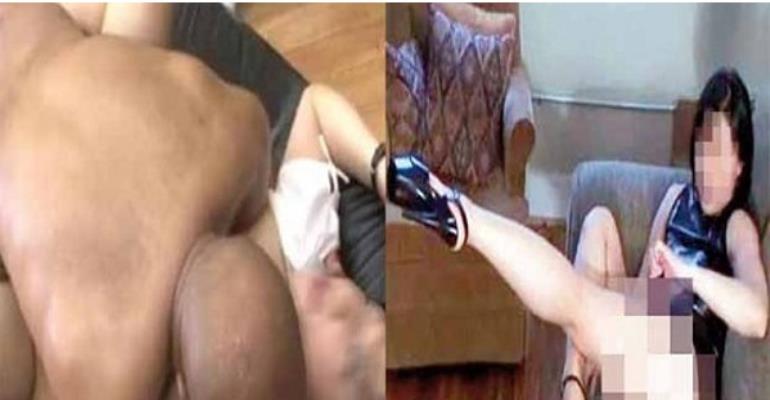 Talking-head journalist Kweku Baako and Anas Aremeyaw Anas promised to release a sensational investigative documentary on parliamentary corruption but this confident assurance has since never come to pass.
More so, we have not been given any justifiable reason(s) explaining why the public does not deserve due fulfilment of this scandalous promise by the camp of Baako and Anas.
The deafening silence hanging over this indispensable question of national security, especially in respect of Baako's and Anas's confident public communication in this controversial matter, finally seems to have forever been buried in a foggy shroud, and this, purposefully defined and characterized by a rather convoluted politics of convenience and split loyalty, possibly.
Ghanaian politics is gradually becoming weirder and weirder by the day, even senseless.
Now, as it may be expected, or as if by natural design, the entire country appears to have fallen, once again, under the dangerous politics of sexual sinology, an interesting political game defined by a barter economy where male Ghanaian politicians have mortgaged the country's future on a stock exchange of cheap sex, that is to say sexual binge, if you will, with Chinese women.
Simply put, sexual sinology has usurped, or completely taken over, our collective sense of national security, sovereignty, and pride in our zero-sum duopoly, for lack of a better expression.
Sixty whole years of independence and we still cannot boast of pragmatic nationalism and comparative advantage in any productive idea to move our dear country forward.
Can we even speak of comparative advantage and pragmatic nationalism in our kind of open-defecation politics?
But, at least, for now, we can hopefully if not usefully boast of pragmatic nationalism and comparative advantage only in terms of political pornography and moral disability.
Suddenly our male politicians have assumed the demoralizing nymphomania of the kind of woman who inhabits the contextual galaxy of Kennedy Agyapong.
Where is Kennedy Agyapong anyway?
Now, it seems, we have made a profound paradigm shift from Madam Charlotte Osei bartering her womanhood for the Chair of the Electoral Commission (EC), to our male philandering politicians swapping their manhood for galamsey-driven pollution and destruction of our beautiful country, all in the glorious name of globalization and international prostitution and democracy.
If it were female Ghanaian politicians in place of their male counterparts in this shameful sex scandal, Kennedy Agyapong would probably be all over the place savaging these women and calling them unprintable names.
Thus, Ghana appears to be in a tightening grip of resource curse.
We have seen the onset of this political symptomatology in our rivers, forests, and lands.
Yet we cannot blame the Chinese but ourselves.
How did these Chinese end up in Ghana in the first place? Who have been protecting them? Who have been selling them the licenses to operate in Ghana?
Those questions aside, can we imagine Ghanaians going to China and engaging in illegal mining, to the point of polluting China's lands, forests and waters?
At a time when China and the Chinese are progressively moving away from fossil fuel and embracing non-fossil-fuel technology, Ghana and Ghanaians on the other hand have created a conducive environment for Chinese immigrants, although we do not intend this to be a blanket characterization of sorts, to turn our country into a mourning desert of galamsey-driven pollution.
We are more than complicit in this shameful exercise of national destruction.
In fact, we are our own enemies.
Thus, we should leave the Chinese alone and look closely within ourselves.
What we mean to say is that, others will respect our laws if we do not give them the excuse to behave otherwise, or for them to think lowly of our laws. In other words "charity," they say, "begins at home."
On the basis of this assumption, Information Minister Mustapha Hamid's statement to the Chinese Ambassador, to the effect that Ghanaian-based Chinese must respect Ghana's laws is neither here nor there.
Our chiefs and kings and queens—let's say our traditional authorities—and politicians and a generality of ordinary Ghanaians are neck-deep in the stinking cesspool of galamsey, and so, if we may also add as an emphatic reminder, Hamid should redirect his sanctimonious advice to Ghanaians, first and foremost.
This is what naturally happens when a nation-state for that matter is addicted to neocolonial dependence.
For, as a walking-dead nation, we are developmentally famished in spite of abundant wealth and the Chinese are among those on the international stage who are feeding our anorexic country.
Our leaders are therefore afraid to bite the philanthropic neocolonialism and paternalism of the Chinese, the hand that is feeding them.
Hamid's sanctimonious advice is at best a paper tiger, which the Chinese refer to as "zhilaohu." On the other hand international economist Dambisa Moyo may have to start revising her economic models!
Still, we cannot seem to wrap our heads around the fact that foreigners, Chinese women for that matter, can muster the audacity to blackmail our politicians on their own terms of strategic reference.
The Chinese have learnt to effectively use sex as a bargaining chip to secure protection from the law. This protection gave them the license to destroy some indispensable natural resource assets.
This is, perhaps, because some of our Eurocentric political leaders have assumed the psychology of the architects of Apartheid.
How can these shameless, unpatriotic leaders engage themselves in episodes of transient sexual pleasure merely at the expense of the future of the country?
What is more, the social democracy of the National Democratic Congress (NDC) and the pseudo-socialist property-owning democracy of the New Patriotic Party (NPP) are remarkably reduced to private obsession or infatuation with sexual sinology, of Karma Sutra, essentially!
This private political obsession with sexual sinology constitutes an episode of unpardonable wickedness—of the highest order.
This is not the kind of political atmospherics the ruling class should bequeath to posterity. Posterity deserves far better that this open-defecation democracy. And, of course, we are directly referring to the kind of socio-political atmospherics Prof. Molefi Kete Asante describes as follows:
"An interconnected global world with personal dignity and respect for all other people as human beings with the same privileges that one seeks for oneself while preserving the earth for those who will come afterward" ("Revolutionary Pedagogy: Primer for Teachers of Black Children," p. 9).
That hopeful earth has become almost uninhabitable!
From the look of things, there is no doubt in our minds that Ghana's political leadership, including ideologically disoriented character masks such as Akufo-addo, suffers from what Prof. Asante calls "mental lynching" and "intellectual terrorism."
Prof. Kofi Kissi Dompere, on the other hand, calls this malady "irreducible ignorance," cognitive imbecility," or "mental murder."
Where is President Kalyppo Akufo-Addo, the famous Ghanaian smooth-talking human snake known for his Locally Acquired Foreign Accent (LAFA)? And what has he got to say about this scandalous controversy?
He is busy populating his government with cronies and families members—taking crony capitalism and nepotism to new heights in the Ghanaian political economy, and going around with his leaking begging bowls, like his sleeping predecessors John Kufuor, John Mahama…, preaching, traveling around Ghana and Africa and the world at large making grandiose promises and campaigning.
Well, the khaki-wearing, crazy-baldhead, and English-speaking mustachioed colonialist is back in full swing, in the seat of government.
Black Apartheid is also back as galamsey-propelled sexual sinology!
Say what? Our Eurocentric leaders have become a fecal ball of shameful idiocy, a disgrace to posterity.
Where is Kwame Nkrumah to deliver us from this unbridled political wickedness of our political leaders?
Here is Bob Marley speaking for a typical Ghanaian politician on "Concrete Jungle":
"No chains around my feet
"But I'm not free
"I know I am bound here in captivity…
Imported oriental sex is therefore the male Ghanaian politician's redeemer! This is all part of the political ecology of grinding and paralyzing mortal wickedness, with its undeniable spiritual component, which Bob Marley described on "So Much Things To Say" as "spiritual wickedness in high and low places."
Man is really wicked. And the political animal is no exception. Yet Bob Marley, like some of us, has lost faith in "the laws of men"—as he put it, as a fair arbitrating power in the affairs of men. Bob Marley thinks "the laws of men" have woefully failed human civilization. He sings:
"'Cause I and I no expect to be justified
"By the laws of men, by the laws of men…
Is there a higher authority to whose final, decisive judgment we can submit the fate of our wicked politicians?
FOOD FOR THOUGHT: SOME CRITICAL PERSPECTIVES
Our rent-seeking and voyeuristic politicians think Ghana is for them and for them alone, their families and their cronies, which possibly explains why they think they can mortgage the country's future to transient bursts of sex with Chinese women.
If the World Bank/IMF and global capitalists are not sucking Ghana dry in collaboration with foreigners, including Asians, and Ghanaian themselves, then it is Chinese women who have learnt to use the power of sex to bend the will of male Ghanaian politicians toward their economic interests in the Ghanaians state.
As a matter of fact these Chinese women have proved to be better at managing the political intrigues of effectively manipulating our male politicians than, say, Madam Victoria Hammah, an erstwhile Deputy Minister of Communications in the outgone government who was fired merely for dreaming of making a million dollars as a sitting politician, a feat her male counterparts, then and now, have no difficulty whatsoever chalking up in their balance sheets of blatant political criminality and thievery.
After all, we are who we are and what we are by virtue of the extent to which we obey or disobey our laws, and a country is a responsible one when it has law-abiding citizens and good laws that are practically enforced without any form of discrimination or bias of any kind, the latter statement being far from material reality in the Ghanaian body politic as the unfolding drama of sex scandal seems to suggest.
In China, for instance, people are literally executed for committing certain cases of public corruption while, in Ghana on the other hand, hardened political criminals and thieves of the Chinese type or category are set free with their booties intact, and even celebrated on top of that.
In Ghana pervy political criminals and thieves are celebrities. These are the saints and angels who occupy the front sits in our churches and who give out fat donations to these churches, and some of the criminal political theologians who shepherd these churches scream:
"Amen…The grace…The mercies of the Good Lord are abundant!"
Then sings Max Romeo:
"Stealing, stealing, stealing,
"Stealing, stealing
"Stealing in the name of the Lord.
"My father's house of worship,
"Has become a den of thieves
"Stealing in the name of the Lord…
"Strike the hammer of justice,
"And set my people free…
Yes, we have sold our national conscience for a pittance of exotic Chinese pudenda.
And posterity—the children of today and yesterday—is closely watching this naked-sex political pornography from afar. We are unwittingly creating Frankenstein monsters of political pimps and prostitutes to take over the affairs of the nation when this wicked generation of political leadership dies our, or goes into extinction.
But, finally, we should commend the Akufo-Addo government for imposing a moratorium on galamsey activities across the country.
Let's hope that it is not one of those Orwellian political feints, a mere publicity stunt.
And let's also hope President Kalyppo Akufo-Addo, Kennedy Agyapong, and Chairman Wontumi, Pastor Mensah Otabil, John Mahama, Rev. Owusu Bempah, Asiedu Nketsia, Profs. Stephen Adei and Emmanuel Martey, Asantehene Otumfuo Nana Osei Tutu (2), and Okyehene Osagyefo Amoatia Ofori Panin (2) are not featured in any of these alleged galamsey sex rapes.
You can't tell in Ghana, at least not what these crazy baldheads are capable of. That is to say, one dare not put anything past a Ghanaian.
One thing for sure though: Madam Charlotte Osei is not in any of these sex tapes. We are certain of this fact!
We shall return…