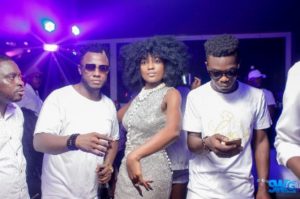 The 2016 DJ Mensah All White Party has ended successfully.
This year's event was aimed at celebrating a peaceful upcoming election, and the theme was IParty4Peace.
Indeed, if you were in Plot Seven last Friday, November 11 2016, you would know how our top personalities in the music, movie, sports, political and other aspects had the best of fun in their amazing all white outfit.
Stars at the event were Sarkodie, Efya, Bisa Kdei, Piesie, Donzy, Bossu Kule, Angel Town, Black Nana, Ephraim, Dr Cryme, Pep, Vybz Squad, Panji Anoff, Cribs, Masta Garzy, Benji, DKB, Jancinta, Praye, 4X4, Selly Galley, Wisa, Joey B, Gasmilla, AY, D-Black, DJ Breezy, Article Wan, Tee Phlow, Akoo Nana, Street Beats, Geezus among others. Not forgetting the hot ladies who made a special appearance for the guys and the supported media houses. This event was proudly powered by BK Multi-Media.
To cut a long story short, this years DJ Mensah All White Party was super successful and the pictures below will do the rest of the hype..
See pictures below…
Sam 7371
Sam 7379.
Sam 7385
Sam 7390
Sam 7398
Sam 7407
Sam 7419
Sam 7422
Sam 7429
Sam 7431 (1)
Sam 7437
Sam 7433
Sam 7444
Sam 7445
Sam 7520
Img-20161112-wa0006
Img-20161112-wa0008
Img-20161113-wa0007
Img-20161113-wa0008
Img-20161113-wa0010