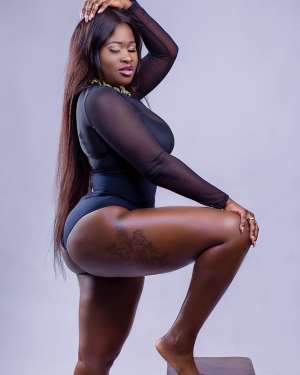 Popular Ghanaian Songstress, Sista Afia, says she disagrees with Akosua Agypong's view of how female artistes in the music industry must dress.
According to Sista Afia, this is a different era with a different vibe so there is nothing wrong with female acts wearing seductive dresses.
She said, her manager leans towards the less exposing dresses. "I can wear something to perform but he'll let the stylist put more covering to it."
She told Dr. Pounds on Hitz FM she sometimes does not listen to her manager even though she can do without seductive outfits "but then I'm a performer, it's all part of it."
"So we shouldn't wear seductive dresses? " she quizzed.
Akosua Agyapong on the contrary explained that the seductive outfits of ladies put them in a negative lime light.
Akosua added that as for her, she made a promise to dress well and respect herself. She also added that the consequences of dressing half naked will fall on them one day.
The singer explained some parents have complained to her that they are having challenges with their children because whatever they tell the kids, the children refer them to the things they did in the past.
However, Sista Afia maintains: "We are not in those ages anymore, this is like a different era, a different breeze. If we want to catch up to the changing trends of the society there are so many things we have to do."
Sista Afia added that, her mother complains of her dressing and doesn't go hard on her to cover up.
"But she knows I'm a performer and advises me to dress sexy if I want to but with less skin exposure."