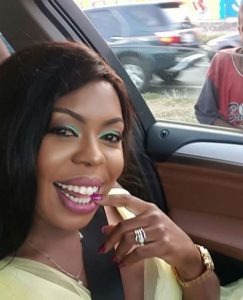 A few weeks ago, controversial comedian and radio personality, Afia Schwarzenegger got married in South Africa.
Her marriage was greeted with a host of controversy with some of her critics saying she had got married to a gold-digger.
Well today, the lady who gives controversy a new name share a picture on her social media pages showing the world her expensive diamond ring.
She captioned her post "Up close and personal with my Diamond wedding ring…hehehehehehe. Enjoy the rest of your day!!!!."
Afia seems to be enjoying her marriage and has no time for haters.