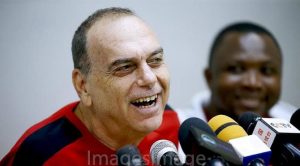 The Black Stars suffered another mighty blow in their quest to reach the World Cup in Russia. If the 0-0 stalemate to Uganda was a setback this defeat is a slap in the face. Below are some of the factors which ultimately decided the game.
ONE DIMENSIONAL FOOTBALL:
Every attacking move of the Stars went through the left side. Atsu had many balls in the attacking third but failed to deliver in good crosses. The team barely switched play to use the right flank. It made the Black Stars too predictable from start to finish.
POOR REACTION FROM GRANT:
Every eye watching the game saw Atsu struggling to be at his creative best down the left side. The Newcastle United man has always been an inverted winger who finds joy cutting in from the right but Avram Grant watched him get frustrated down the left side till the dying embers of the game when he brought on Jeffrey Schlupp. This attitude of Grant not reacting quickly to change a game tactically has been his lowest ebb since he took over the job two years ago.
RAZAK BRIMAH REMAINS POOR SIDE WITH AERIAL BALLS
The Ghana number one is always found wanting when dealing with aerial balls. Even when he is crowded by opposition players he prefers to go for grabbing rather than punching. Though the first goal was a penalty caused by Afful Harrison, it's genesis was when Razak failed to deal with a cross. In a tight game like this tight details always define games.
STRIKING TROUBLE AWAITS THE STARS WHEN GYAN  FINALLY HANGS HIS BOOT
With Asamoah Gyan injured Jordan Ayew was tasked to lead the attacker. The younger Ayew once again showed that he cannot be relied on when it matters most. He posed no threat to the Egyptian back line. It's no surprise that he is now being deployed as a winger at his club all because he lacks striking instincts.
LOVE WON, LOVE LOST.
For a long time, Ghanaians have developed apathy for Black Stars games but the story today was quite different. The team was gaining positive review till they gifted the Egyptian a win. It was a great opportunity to win back the nations heart but they failed. The apathy will now persist till AFCON 2017 where they will have the chance to win the ultimate to appease the fans.
By Rahman Osman 
Follow on twitter @iamrahmanosman
Photo Credit:   Senyuiedzorm Awusi Adadevoh
For more Ghana football news visit www.ghanasoccernet.com