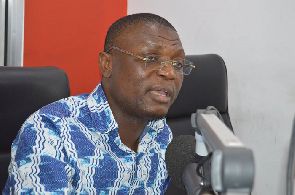 Campaign Coordinator of the National Democratic Congress (NDC) has debunked allegations by the opposition New Patriotic Party (NPP) that President John Mahama tried bribing the Northern regional chairman, Daniel Bugri Naabu to turn against the flagbearer of the party, Nana Addo Dankwa Akufo Addo.
The claimed among other things the NPP said in a meeting with the President and his brother, Ibrahim Mahama, their chairman was promised GH¢500,000 and a Mitsubishi vehicle to fabricate stories against the NPP leader.
The party made this revelation at a press conference Tuesday at the party's headquarters.
Spokesperson to Nana Addo, Mustapha Hamid who chaired the press conference said the key plan of the NDC campaign is to portray the NPP as a party not ready for power.
He indicated that, NPP members of the party especially in the north are disappointed and saddened by the conduct of the President while in office.
But Kofi Adams who is also the National Organizer of the NDC, described the claims as baseless and a calculated attempt by the NPP to destroy the Mahama-led government.
According to him, the NDC led by his boss Mahama do not need to bribe people to fabricate stories about the 'bad character and leadership qualities' of Nana Akufo-Addo.
"We have one week to election and so the NPP as a means of creating tension, have decided to hold unnecessary press conference just to tarnish the image of our President. They have no evidence because it is just a political gimmick" he stated in an interview on Asempa FM's Ekosi Sen Tuesday.
Kofi Adams therefore called on Ghanaians not to be swayed by what he describes as the lies of the NDC and be focus by giving the President another term in office.
https://youtu.be/gqUasIRgZqY