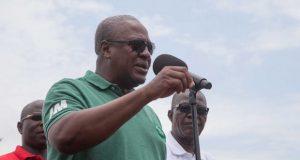 President John Dramani Mahama has accused the opposition New Patriotic Party(NPP) of deceiving Ghanaians with a plethora of empty promises.
According to the President, most of the NPP's promises made by the NPP are not achievable and designed to entice electorates to vote for them in the December polls.
Speaking at a mini rally at Nandom in the Upper West region, Mr Mahama appealed to Ghanaians to reject the promises made by the NPP and vote for the NDC to continue the massive development agenda the NDC has for Ghanaians.
"A lot of the things that our opponents talk about are election gimmicks. Its easy to promise. when you're the one watching a football match in the spectator stands you can score as many goals that you want with your mouth but when you are on the football park it is not as easy to score. And so you make all the promises; 1 village-1-dam, you don't even know what a dam is. You can't tell a dug out from a dam, from a barrage dam, from an irrigation dam, you can't tell and so you say 1 village-1-dam. What does 1 village-1-dam mean? President Mahama argued.
Meanwhile President John Dramani Mahama has said when given the nod, he would continue in his effort to improve the road network in the Upper West Region.
He said it was unfortunate that the region had the least quota of tarred roads in the country despite its potential and contribution to the development of the nation.
He said even though his government has done more roads than any other government in the history of the region, it was still lacking in terms of good road network, adding that he would give special attention to that if his mandate is renewed.
He said he had gone round the country and the level of enthusiasm in appreciation of government's effort at providing development infrastructure, gave him confidence that the NDC was going to win the December polls calling on supporters to contribute to ensuring another successful and peaceful election.