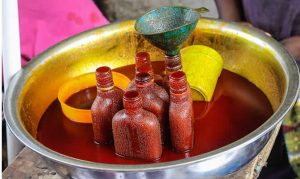 Ghana, together with six other African countries, has agreed in a declaration signed on Wednesday to protect their tropical forests from being cut down to make way for palm oil crops.
The other countries are the Central African Republic, Ivory Coast, the Democratic Republic of Congo, Liberia, the Republic of Congo and Sierra Leone.
Palm oil, one of the world's most widely used vegetable oils, is a fast-growing business and a major cause of tropical deforestation worldwide.
The seven countries that signed the declaration in Marrakesh, where international climate talks are taking place, want to expand into the $50 billion global palm oil market.
The countries are home to about 13 per cent of the world's remaining tropical forest, particularly in the Congo Basin region, and represent more than 70 per cent of Africa's tropical forests.
Those are at risk as the palm oil market expands, toward an estimated $88 billion a year by 2022, according to the World Economic Forum.
"It's really exciting and important that these countries which are about to expand into the market have learned from the path that (Malaysia and Indonesia) took," Dominic Waughray, head of public-private partnerships at the World Economic Forum, said in a telephone interview.
Indonesia and Malaysia export about 85 per cent of the world's palm oil. Malaysia has already cleared much of its forests to grow the crop, and Indonesia is in the process of doing so, Mr. Waughray told the Thomson Reuters Foundation.
The World Economic Forum hosts the Tropical Forest Alliance 2020, a partnership of governments, companies and non-governmental organisations, which produced the Marrakesh Declaration.
About half of global tropical deforestation is driven by beef, soy, palm, and paper and pulp. But palm oil is probably the biggest driver of the four commodities, Mr. Waughray said.
It is used in a host of everyday goods, from soap to breakfast cereals, as well as for frying and fuel.
Pressure from buyers
Some of the pressure on governments to protect forests comes from major buyers such as Kellogg's, Unilever, and Procter & Gamble, which aim to strip deforestation from their palm oil supply chains by 2020, Mr. Waughray said.
Paul Polman, chief executive officer of Unilever – a major palm oil buyer – welcomed the signing of the declaration, saying "Palm oil, if produced sustainably, can play a key role in poverty alleviation by helping farmers thrive economically while adopting sustainable agricultural and business practices."
Under the declaration, governments have also promised to protect the human rights and livelihoods of indigenous people and smallholder farmers, and help them access the booming market.
"Deforestation has often been linked to human rights violations," Hindou Oumarou Ibrahim, co-chair of the International Indigenous People's Forum on Climate Change, said in a statement, and added that, "People are losing access to the land they have always lived on and farmed. I hope this declaration will be an example to the rest of the region and encourage other tropical forest African countries to follow in the commitment."
The declaration "is not just about environmental sustainability, it's also transparency in that supply chain (including) respecting and managing the rights of indigenous peoples groups," Mr. Waughray said.