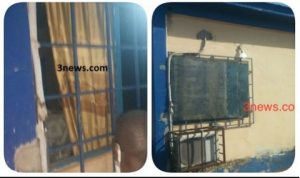 In what can be described as a desperate attempt to protect ballot boxes, supporters of the New Patriotic Party in Bolgatanga kept vigil Thursday night to weld a window of a Police storeroom where cast ballots were being kept for safety.
The party supporters assembled at the Upper East Regional Police Headquarters in Bolgatanga to keep watch and protect the ballot boxes used for Thursday's special voting exercise in the Bolga Central Constituency, citing a window defect as their basis.
They claimed the integrity of the ballots could be compromised if the window, which was behind the room, was not fixed, and vowed to keep watch and protect the place.
At about 10:30pm Thursday night, the supporters led by their regional executives, went for a welding machine to weld a metal plate to cover the big spaces, which were in between the burglar proof window.
They left the premises after 1:00am Friday, TV3's Tanko Mohammed Rabiu reports
Watch more in the photos below